In Ireland's final warmup the centre partnership of Bundee Aki and Robbie Henshaw lit up the Aviva Stadium. There was plenty of mentions about how quickly they rekindled their symbiotic partnership from Connacht's PRO12 championship winning season, so just how symbiotic was that partnership?Firstly, lets look at how many times Aki and Henshaw have played together on the same team, they had 2 seasons together at Connacht and they are now into their 3rd season at international level.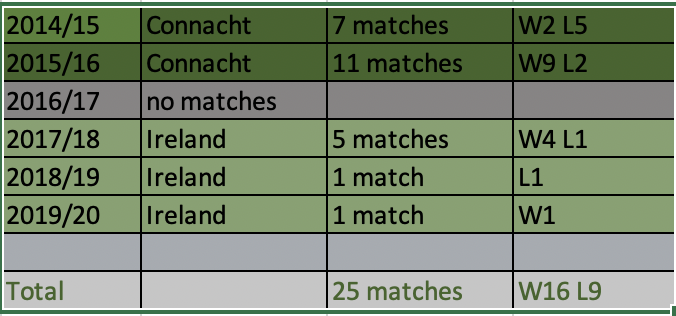 Their overall winning percentage when playing on the same team is a healthy 64%, and improves to an impressive 71% for Ireland. 
It gets even better when you look at their centre partnership figures from the championship winning season onwards, the 7 matches in the 14/15 season saw both playing their preferred centre positions, while there were 4 matches in the championship winning season when Henshaw started at fullback. He also started in that position against England last season. 

The percentages jump up to an 85% winning ratio overall, 86% for Connacht and 83% for Ireland.
The wins for Connacht include win against Scarlets, Glasgow and Leinster. The Ireland wins included away victories over Australia, France and South Africa.
Aki's win ratio for Ireland in 80%, (16 wins in 20 matches), Henshaw's is 63%. (24 wins in 38 matches). 
As partners Aki/Henshaw the win ratio is 83% (W5 L1). When Aki is paired with other centre partners his win ratio drops to 79% (W11 L3 – with 2 of the losses coming in last seasons 6N).
For Henshaw, his win ratio drops to 59% with other centre partners (19W 1D 12L).
So after a ropey enough start to their centre partnership in the 2014/15 season (W2 L5), the Aki/Henshaw pairing really has gone from strength to strength and looks like it might be Ireland's most effective partnership in the upcoming Rugby World Cup.