Connacht 12 Glasgow 18
By Rob Murphy at the Sportsground
Something is not right. We might as well accept that from day one rather than adopt a wait and see mentality.
It might take a while before anyone can properly judge Kieran Keane's influence on his new squad but this opening day dour display must have him more than a little concerned.
In the wind and the rain Connacht looked like a side that couldn't believe they were being made play in such weather. Rudderless and short on ideas. Glasgow revelled in the challenge and the outcome rarely seemed in doubt.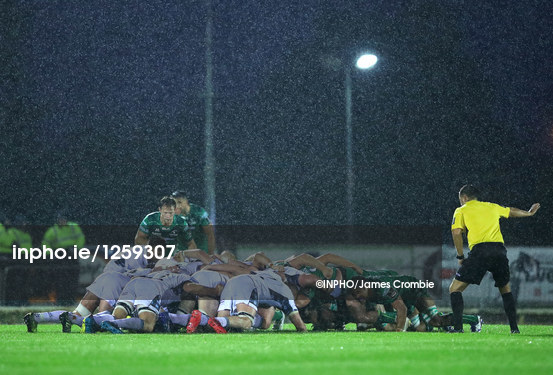 Conference rival
The visitors travelled without key front line Lions internationals, blooded some young academy stars and in the end picked off a neat win over a conference rival.
Is it really a bad idea if we shout stop, something's wrong, straight away? There's a long season ahead but already Connacht are backed into a corner.
They won't allow us to draw their attention to anything other than next weekends clash with South African newbies the Southern Kings. But that doesn't have to stop us looking ahead and determining that if Connacht don't win their next three matches, their play-off hopes will be below slim already.
European break
If you take the October European rugby break as the first marker in the season, Connacht will have played six games to that point.
Three wins is the absolute best one could reasonably hope for at this point as the last two games in this sequence are against the Scarlets on September 30 and Ulster on October 7, both away from home. Connacht do not win at those venues, under any circumstance.
If they get that far still alive. The aim will be to get through the Challenge Cup games and return in late October for the mother and father of all defining fixtures, a home tie against Munster.
Capabilities
Just how will Connacht perform there? If they have rediscovered their title winning juices, a win is well within their capabilities, if it's more akin to Saturday's effort, then we're in for a long first year under new management.
Let's focus on what looks right for a minute. Unlike last season, Connacht look fit and physically ready.
This was a real tussle in conditions that were never going to allow for anything other than an arm wrestle.
Second best
Connacht were probably second best in the collisions. But not by much and certainly not to the extent of last season's home opener against the same opponents after a calamitous pre-season left them weeks behind and totally outclassed.
The balance of the team by the hour mark looked decent.
Tom Farrell and Sean O'Brien both made a big impact from the bench, Craig Ronaldson too. Certainly all three outperformed the men they replaced.
Handling errors
Farrell's tackling turned momentum for Connacht. But the game was underpinned by handling errors and soft turnovers. Every good deed was followed by a sloppy turnover in the tackle, Conor Carey and Ultan Dillane were guilty there. Or crucial knock-ons from high balls, Matt Healy twice and Cian Kelleher got in on the act.
Each error proved energy sapping for both the supporters and the players.
Heck, when Darragh Leader stopped a long kick downfield with his foot just to be safe, he got an almost ironic cheer from an exasperated home crowd for simply showing some caution and composure.
Same goes for Ronaldson when he kicked in behind the defensive line and turned Glasgow in a manner which Connacht failed to do while Carty was at the helm.
Disallowed try
Connacht had the wind in the first half but led by just six at the break, 9-3. John Muldoon had a try disallowed after a quick tap owing to the fact that Ben Whitehouse wasn't in position.
Overall, Glasgow had worked hard to be within striking distance and in the third quarter they made Connacht pay.
The visitors first try was finished off by Ali Price after a neatly worked move from the base of a scrum 30 metres out.
The platform had been presented to them after a Cian Kelleher knock-on. The conditions meant such an error was more costly than might normally be the case. Peter Horne had a penalty and a conversion and Glasgow led by 13-9.
Momentum
Buoyed by the energy, enthusiasm and endeavour of Farrell's tackling, Connacht gained some momentum in the final quarter.
Through Carty's fourth penalty of the game from four attempts, they got within one but the mistakes kept coming.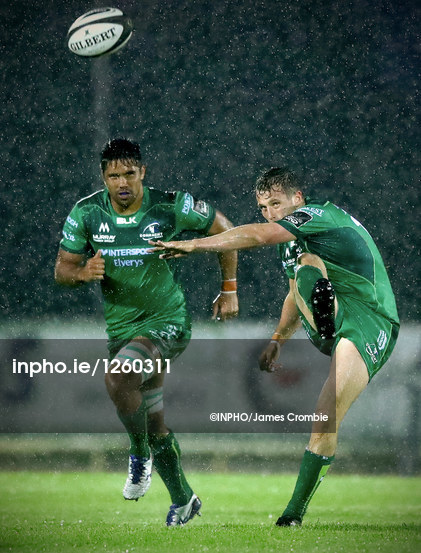 Matt Healy's error proved the platform for Glasgow's second try finished off by Lee Jones after some brilliant work from Leonardo Sarto. That was as good as game over.
Distant memory
It can't be easy starting from scratch again. The 2016 PRO12 title is a distant memory for everyone in European rugby bar people from Connacht.
Western rugby fans will always hold those memories in good stead and the players will be heroes forever more no matter what lies ahead for their careers.
They can rest easy in that regard but is that enough for them? It's frustrating to hear how easily the 2016 title is dismissed by pundits across the league as nothing more than an anomaly, a result of a World Cup year where they big teams were disrupted.
Misfits
To give some examples, former Welsh star Martyn Williams has said that, Edinburgh coach Richard Cockerill praised Pat Lam for bringing a group of "misfits"to a title, Shane Byrne actually forgot about Connacht's title when talking about the state of Irish provincial rugby on national radio last spring.
Lord knows what the inner motivations are for this group but they had a chance to hit the ground running here on Saturday. To burst out of the blocks and show that last season mishaps were the real anomaly, not the year before.
To show that they are ready to disrupt the top six in this league and mix it with the best once again.
Knuckle down
They missed that chance and now must knuckle down, pick off three vital wins and wait until that Munster match in October for their next chance to make a statement. An unglamorous six weeks lie ahead, let's see if they are up for digging out some unheralded victories.
Scoring sequence:
2′ 3-0 Penalty goal – Jack Carty
12′ 3-3 Penalty goal – Peter Horne
20′ 6-3 Penalty goal – Jack Carty
41'+1 9-3 Penalty goal – Jack Carty
Half-time Connacht 9 Glasgow 3
46′ 9-6 Penalty goal – Peter Horne
48′ 9-13 Try – Ali Price; Conversion – Peter Horne
61′ 12-13 Penalty goal – Jack Carty
72′ 12-18 Try – Lee Jones
Teams:
Connacht: D Leader, C Kelleher, E Griffin, B Aki, M Healy, J Carty, K Marmion, D McCabe, T McCartney, F Bealham, U Dillane, J Cannon, E Masterson, J Butler, J Muldoon
Replacements: T Farrell for Griffin and S O'Brien for Masterson (48 mins), C Carey for Bealham (56 mins), C Ronaldson for Carty (70 mins)
Glasgow Warriors: R Jackson, L Masaga, A Dunbar, S Johnson, L Jones, P Horne, Ali Price, J Bhatti, G Turner, Z Fagerson, T Swinson, S Cummings, R Wilson, M Smith, A Ashe
Replacements: A Hastings for Johnson (7 mins), O Keeble for Bhatti (37-40, 46-80 mins), L Sarto for Hastings (57 mins), M Fagerson for Smith (60 mins), L Sarto for Horne (70 mins), J Malcolm for Turner, A Nicol for Z Fagerson (Pyrgos for Price (72 mins)
Referee: Ben Whitehouse (WRU)
Attendence: 4,017