Dragons 21 Connacht 8
By Rob Murphy at Rodney Parade
There you have it. Yet another inexplicably poor display from Connacht, in what has turned out to be an awful start to a season for the men in green.
The Dragons are perennial basement dwellers and snapped an eleven game losing streak here.
No serious play-off contender steps out of Rodney Parade without a single point to show for their efforts.
Key role
Kieran Keane's men started with eight players that played a key role in the 2016 PRO12 title.
That should have been more than enough to produce something of a competent display here.
Yet what we got was a first half of chaotic defending (they were lucky not to be 30 or 40 points behind) and a second half domination of possession and territory with no penetration.
Impact
There's no band of logic that allows us to assess the new coach's impact on a sample size of just three games.
But in contrast, Bernard Jackman (in the exact same position with the Dragons) is being credited with revitalising and re-energising the dormant east Wales region.
There's certainly a good atmosphere around the place and they died with their boots for him on Friday evening in Rodney Parade.
Assessment
Don't mistake that for an explanation as to why the Dragons beating Connacht is acceptable in any assessment of this fixture.
The visitors might well be on a spiral down the rankings in European rugby, but that won't become truly clear until around the midway point of the competition.
For now, we have to assume that Connacht are still a quality outfit, and these results reflect a real failure to find form rather than a true reflection of their worth.
Cut loose
The Dragons cut loose early on Friday with Hallam Amos' try stemming from a sweeping right to left move on half way.


A mis-read in the defensive line caught James Cannon out, and then some slick hands put Amos away.
That gave the home side the confidence and the talented Elliot Dee got a second try midway through the half with Gavin Henson adding three penalties for a 21-3 lead.

Dominating
It should have been more. the Dragons were dominating the Connacht scrum. Sweeping through huge gaps in a defense that was all at sea.
They turned down opportunities to go to the corner and turn the screw in favour of three pointers to ensure a much needed win.
The losing streak had them nervous, which was at least some good news for Connacht.
Standouts
Almost every Connacht player was playing poorly but some were standing out in that regard.
In a highly unusual move Jake Heenan, Caolin Blade and Tom McCartney were all taken off at half time in favour of Jarrad Butler, Kieran Marmion and Dave Heffernan.
The difference was fairly spectacular in terms of basic ball retention and effective carries too.
Dominated
It meant that Connacht dominated possession and territory in a strange second half.
They scored a try through the industrious Quinn Roux to close the gap to just 13.


But the misfiring Jack Carty yanked the conversion wide and that would be the last score of the game.
Connacht huffed and puffed but looked devoid of the quality ideas needed to breakdown the home side.
Real grit
Afterwards Keane pointed to the second half display as a real reason for optimism saying his side showed "real grit".
If that's his baseline for optimism then we should strap ourselves in for a long and painful rebuild and a season jam packed full of defeats.
The Dragons were a dishevelled mess after the break because they had lost three backs to injury in the first half.
More alarming
In truth the second half display was arguably more alarming than what was on offer before half time.
Connacht were unable to turn all that possession into anything resembling a coherent attacking strategy.
They were rarely able to truly threaten the home line for even a losing bonus point from this contest.
Leaders need to step up
There is more than enough talent for Connacht to turn the tide but their leaders need to step up.
The eight men who were involved in Murrayfield in 2016 were unable to make their mark here.
Key man, Bundee Aki ran up blind alleys for 80 minutes and rarely looked effective.
The pack misfired in every way too with only Eoghan Masterson offering anything close to his best of those that started.
Hope
Heffernan's impact offers hope as he will add a lot to the set piece play.
But Connacht are in trouble at loosehead in the absence of the injured Denis Buckley.
The western province could do with Ultan Dillane being available for must win fixtures like this one last Friday night.
Discipline issues
It doesn't matter who is available if the discipline continues to be an issue.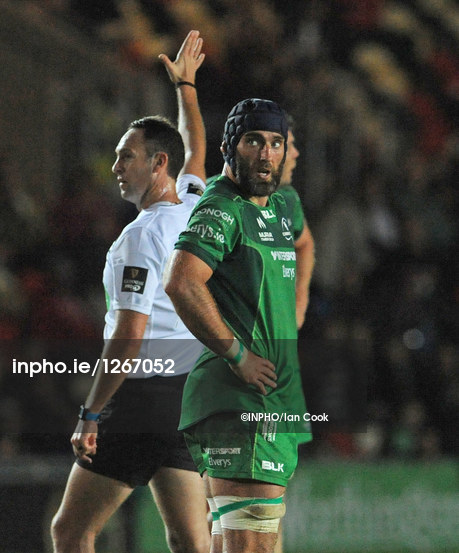 Some of the first half penalties were spectacularly bad at any level.
Heenan was needlessly caught offside at a ruck. Conor Carey flopped on a man on the ground after the tackle. And Blade was involved in an obstruction after a kick and chase that could have cost him a yellow card.
Cannon ended up getting the card before the break.
Concern
Let's finish with our usual concern, the forthcoming fixture list.
After Saturday, Connacht will have just seven home games remaining in this competition.
The trips to Scarlets and Ulster will yield massive defeats on current form.
Saturday's tussle with Cardiff is now a huge test of character and systems, they can't afford to get it wrong.
Scoring sequence:
2′ 5-0 – try: Hallam Amos
7′ 5-3 – penalty: Jack Carty
19′ 12-3 – try: Elliot Dee; conversion – Gavin Henson
24′ 15-3 – penalty: Gavin Henson
28′ 18-3 – penalty: Gavin Henson
37′ 21-3 – penalty: Gavin Henson
Halftime Dragons 21 Connacht 3
53′ 21-8 – try: Quinn Roux
Discipline:
27′ yellow card – James Cannon
Teams:
Dragons: Z Kirchner; A Hewitt, T Morgan, J Dixon, H Amos; G Henson, S Pretorius; B Harris, E Dee, L Brown, R Landman, C Hill (capt), H Keddie, O Griffiths, J Benjamin.
Replacements: J Rosser for Kirchner (15 mins), D Jones for Morgan (33 mins), O Leonard for Rosser (35 mins), R Blake for Kelly (64 mins), L Fairbrother for Brown, T Davies for Harris (75 mins), G Ellis for Dee (79 mins).
Connacht: T O'Halloran; D Leader, T Farrell, B Aki, R Scholes; J Carty, C Blade; D Coulson, T McCartney, C Carey, Q Roux, J Cannon, E Masterson, J Heenan, J Muldoon (capt).
Replacements: D Heffernan for McCartney, K Marmion for Blade, and J Butler for Heenan (all half-time), E Griffin for Farrell (59 mins), F Bealham for Coulson (50 mins), Thornbury for Roux (63 mins), P McCabe for Coulson (66 mins).
Referee: Quinton Immelman(SARU)
Attendence: 5,069
Match stats: ESPN stats
Highlights: PRO12