Oyonnax 15 Connacht 43
By Rob Murphy at the Stade de Geneve
The European Challenge Cup might well turn out to be a golden opportunity for Kieran Keane to get this project onto the next level.
He won't have encountered a multi competition format in his many years in New Zealand. And he will surely relish this break from the grind of the PRO14 championship.
What is certain is that this high octane five try to two victory over Jura mountains based French side Oyonnax on Saturday certainly felt like a change of pace.
Unique setting
In the unique setting of Swiss city of Geneva, Connacht completely overwhelmed the struggling Top14 outfit who had made the one hour trek east across the French/Swiss border into a town known for fondue, chocolate, ice hockey and water sports but certainly not known for its rugby.
Stadium refurbishments and a need to placate some Swiss sponsors were among the reasons for the unusual setting but the 30,000 capacity stadium was no more than 10% full.
Capable
Let's put aside the fact that Connacht are capable of beating any side in this competition in Galway.
Let's also put aside the thoughts that they have that 2016 Murrayfield masterpiece in their locker as proof that anything is possible in finals.
And let's hold our horses on arguing the reasons why Connacht can win this competition because first things first, they need a home quarter final in the Spring to stand a chance of achieving such ambitions.
Bonus points required
Five wins from six in the pool should secure top spot and with a couple of bonus points thrown in, they should be good for a home quarter final for good measure.
They have the right pool to do that. The other three sides have all had equally poor starts to their respective championships, but there's no denying that relegation fears in England and France make such realities far more distracting for them.
Worcester defeated Brive on Saturday and come to Galway in good spirits this weekend, but their one and only priority is Premiership survival. Ditto for Brive and Oyonnax in the Top14.


Experience
This is why Connacht faced an Oyonnax side with 12 changes on Saturday.
Their coaching staff kept some experience in the back line with Julien Audy at scrum half Silvere Tian at full back, but picked a pack of forwards that were large men built solely for physical collisions.
There was only one objective from the pack, win the contact at every opportunity, no finesse, no interest in a running rugby or a varied attacking structure, just smack, bang, wallop rugby for the get go.
Trademark style
So Connacht came with a plan that seemed to have a bit of Nigel Carolan's trademark style in its origins.
The assistant coach oversaw a famous U20 grand slam for Connacht back in 2011 playing high octane fast tempo rugby.
The 2016 Irish under 20 World Cup run that saw them reach the final of that competition, showed similar style and approach.
There is evidence of it emerging in the new Connacht set up too. More quick lineouts in seven games than we've seen in the previous four years, a backline attack that varies the use of space and doesn't get clogged up with forwards and backs and an overall sense of an off the cuff mentality.
Big lead
The tone was set and the statement made in the opening 23 minutes as Connacht raced out into a big lead of 19-3. Three tries, one from Matt Healy who made a bursting run off the shoulder to finish off a try after great work from Tom Farrell.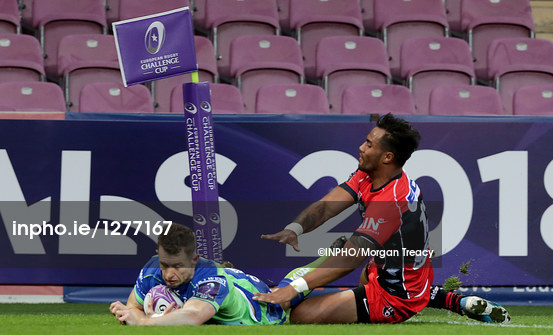 The second from Cian Kelleher after a neat pass from Eoin Griffin at the end of a sweeping backline move across the 22 from a lineout five metres out.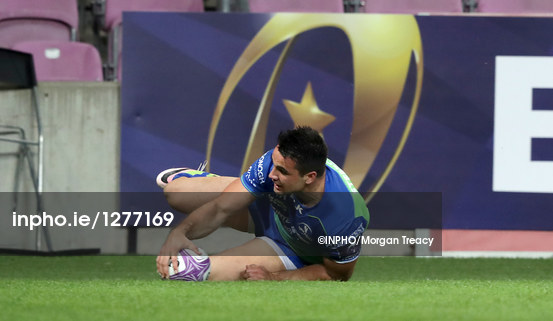 The third coming from Eoin McKeon who powered over after some more sustained pressure.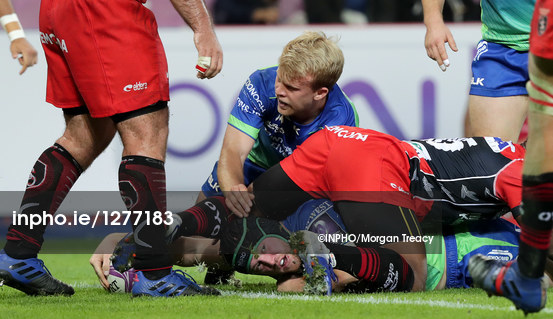 Foothold
Oyonnax got a foothold before half time with a brace of tries, one from Tian the other from Axel Muller.
That had their supporters who made the hour trip east in fine voice but just before half time, Andrew Deegan tapped over a penalty to ensure Connacht's late pressure was turned into points and a 22-15 lead.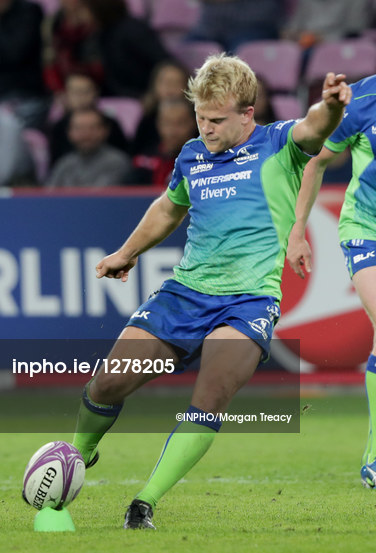 Right after half time, the 22 year old Australian who looked composed and confident in just his second start, slotted another kick and the whole mood was calm and composed again.
Wrapped up
By the hour mark, Connacht had the game won and the bonus point wrapped up.
The prolific Healy scoring again for his 14th try in 22 European outings and while the home side had lots of possession and territory in the final quarter it was Connacht that finished with the flurry and a beautifully crafted try that involved Deegan's heads up running and a fine half break from Griffin that paved the way for the ever improving Darragh Leader to get his third try of what is rapidly becoming a comeback season.

Record score
This was a perfect display on the road and a record breaking scoreline against French opposition away from home.
Keane cut a relaxed and confident figure afterwards. The last three weeks have been about wrestling back control of the project and getting things properly on track.
Another win on Saturday should have them sailing at a rapid pace in time for Munster on Halloween weekend.
The Swiss like to keep things understated and calm, so let's use that as a guide to our European predictions for this side and say that for now, a quarter final spot looks well within their capabilities, after that, who knows?
Scoring sequence:
3′ 3-0 – penalty: Christopher Ruiz
4′ 3-7 – try: Matt Healy; conversion – Andrew Deegan
12′ 3-12 – try: Cian Kelleher
23′ 3-19 – try: Eoin McKeon; conversion – Andrew Deegan
26′ 10-19 – try: Silvere Tian; conversion – Julien Audy
31′ 15-19 – try: Axel Muller
39′ 15-22 – penalty: Andrew Deegan
Half-time Oyonnax 15 Connacht 22
45′ 15-25 – penalty: Andrew Deegan
52′ 15-32 – try: Matt Healy; conversion – Andrew Deegan
58′ 15-35 – penalty: Andrew Deegan
62′ 15-38 – penalty: Andrew Deegan
80′ 15-43 – try: Darragh Leader
Teams:
Oyonnax: S Tian; T Giresse, U Seuteni, R Hansell-Pune (capt), A Muller; C Ruiz, J Audy; G Vepkhvadze, B Geledan, I Mirtskhulava; G Fabbri, S Christian Njewel; B Taieb, V Ursache, M Fa'asavalu
Replacements:S Kerry for Fa'asavalu (temp 22-31 mins) and for Njewel (52 mins), A Fuertes for Ruiz (22 mins), T Laclayat for Mirtskhulava (temp 33-40 mins & 67mins), V Debaty for Vepkhvadze (45 mins), G Bourgois for Geledan (52 mins), J Scalese for Tian (58 mins), R Gautier for Ursache (62 mins), M Romera for Hansell-Pune (70 mins)
Connacht: D Leader; C Kelleher, E Griffin, T Farrell, M Healy; A Deegan, C Blade; D Coulson, T McCartney, F Bealham; U Dillane, J Cannon; E Masterson, E McKeon, J Muldoon (capt)
Replacements: C Ronaldson for Farrell (58 mins), Q Roux for Dillane and S Delahunt for McCartney (both 65 mins), R Scholes for Kelleher (69 mins), J Connolly for Muldoon (70 mins), P McCabe for Coulson and C Carey for Bealham (both 76 mins)
Referee: Tom Foley (Eng)
Attendence: 3,500
Stats: EPCR
Highlights: EPCR video