Cardiff Blues 36 Connacht 30
By Rob Murphy at Cardiff Arms Park
The transition continues and it is going to take a lot longer than most had hoped it would.
Kieran Keane might well have got to grips with a lot of key elements before the November break but Friday's battle with a side similar in stature in the shape of the Cardiff Blues underlined how much more work this group of players will have to do before they become relevant in this competition again.
Relevant
Losing six of your first nine in a competition hardly makes you a relevant force.
Connacht are in the weaker of the two conferences. But the top three seem set in stone with the Cheetahs almost unbeatable at home and racking up the points. Glasgow quite literally unbeatable.
And Munster, despite all their woes, still simply Munster. That's you three play off places sorted and we haven't even reached December.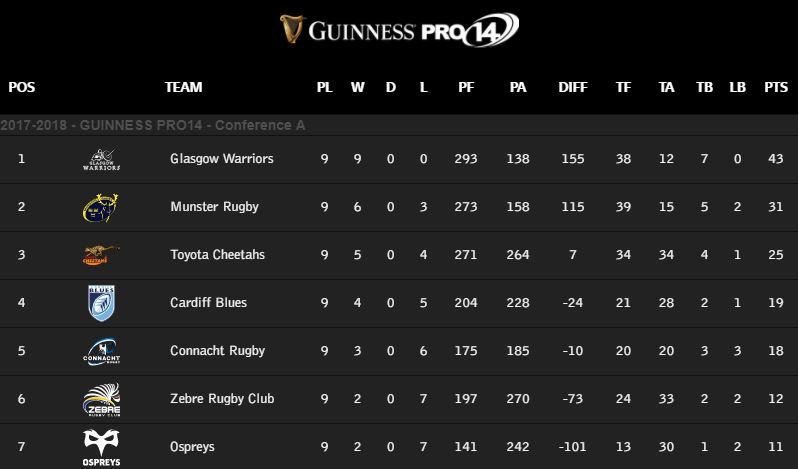 Errors
Friday's game was the meeting of fourth and fifth. As a result of a flawless goal kicking display from Jarrod Evans, and a more composed and focused effort all round, the Blues got their second win of the season over Connacht and leap frogged them in the standings for good measure. They were worth this win but in a game that was littered with errors. They certainly didn't give the impression that they can push on up the standings either.
Champions Cup qualification
From now to the end of the season, Connacht are going to be in a four way battle with Cardiff, Zebre and the Ospreys to see who can lose the fewest amount of games and sneak into Champions Cup contention by finishing fourth.
Remember, top three European sides in each conference secure an automatic place in the 2018/19 event and if that's not enough, even a fifth place finish will secure a one off play off for the final qualification spot.
Less tension
So perhaps it's time that they played with a little less tension in the shoulders and had a bit of a go in this league. Within seconds of this defeat, the talk turned to Saturday's trip to Parma to play another conference rival, Zebre.
The importance of that one was again talked up in the most earnest of fashions and the notion that losing wasn't an option was clear from the subtext. Yet it is an option or at the very least, it's not clear whether it will make a huge difference.
Endeavour
Connacht played with a level of tension and tightness in this one that proved injurious to their chances of executing anything close to a fluid game plan.
They had the endeavour and the energy early on in the contest to allow them to dominate possession and territory. In the process, they created a couple of gilt edge chances for tries and as well as making a meal of those opportunities, they misfired at set piece time too.
The 15 minute sof wastefulness was punished by Cardiff with a brilliant try on 18 minutes finished off by Olly Robinson but made by Willis Halaholo, Tom James and young debutant winger Owen Lane. All three had great games.


Cardiff led by 13-3 at the half hour mark but then proceeded to implode a little to allow Niyi Adeolokun to score on an intercept try and by the half time mark the game was delicately poised with Jarod Evans having edged the hosts 16-13 in front.

Drama
After the break the drama intensified. Connacht were suddenly dominant in lineouts, mauls and scrums and having won a penalty in the latter area, set up an attack ten metres out where their maul was in gear and rolling towards the line.
This was the point where young debutant referee Craig Evans began to make his mark for all the wrong reasons. The short version is Cardiff stopped a seemingly certain try by pulling down the maul and while there was a penalty, there was no yellow card. A minute later, a dominant Connacht scrum was penalised. A minute after that, Eoin Griffin was yellow carded for a deliberate knock on.
Debatable
All those key decisions were highly debateable and Connacht captain John Muldoon certainly tried to debate each one. His efforts were futile however and the Blues through their captain Matthew Rees proved more adept at keeping the young official on their side. From there, the game produced a flurry of scores and lots of disjointed and chaotic entertainment.
Cardiff went ten points clear with a Matthew Morgan try.

Connacht responded with a mauling effort touched down by Shane Delahunt.

But when Owen Lane got the home side's third try to make it 30-18 on the hour mark the game seemed up.


And yet, back came Connacht with another Delahunt try.

The score was 33-23 with four minutes remaining when new signing Pitta Ahki made his first impact having come on as a replacement a few minutes early.


His mesmerising 60 metre break with hand offs and side steps paved the way for a John Muldoon try and secured a four try bonus.

It also opened the door for a stunning smash and grab win yet Cardiff shut that door closed and perhaps underlined that despite their many many flaws, the Blues are just that bit better than Connacht at the moment. Here's the funny thing though, in the turkey shoot that is the battle for fourth in this conference, it hardly matters.
There are four misfiring teams in Conference A looking for a little composure and some luck. Kieran Keane's men need to find some form, not wins. They can forget about the PRO14 play offs but it's quite possible that they will lose a lot more games between now and May and still manage a good run in the Challenge Cup and a sneaky late season surge into the Champions Cup qualification.
Scoring sequence:
13′ 0-3 – penalty: Jack Carty
16′ 3-3 – penalty: Jarrod Evans
18′ 10-3 – try: Olly Robinson ; conversion – Jarrod Evans
24′ 13-3 – penalty: Jarrod Evans
30′ 13-10 – try: Niyi Adeolokun; conversion – Jack Carty
34′ 13-13 – penalty: Jack Carty
38′ 16-13 – penalty: Jarrod Evans
Half-time Cardiff 16 Connacht 13
53′ 23-13 – try: Matthew Morgan; conversion – Gareth Anscombe
56′ 23-18 – try: Shane Delahunt
61′ 30-18 – try: Owen Lane; conversion – Gareth Anscombe
71′ 30-23 – try: Shane Delahunt
74′ 33-23 – penalty: Gareth Anscombe
77′ 33-30 – try: John Muldoon; conversion – Steve Crosbie
80′ 36-30 – penalty: Gareth Anscombe
Discipline:
49′ yellow card – Eoin Griffin
70′ yellow card – Nick Williams
Cardiff Blues: M Morgan; O Lane, G Smith, W Halaholo, T James; J Evans, T Williams; C Domachowski, M Rees (capt), T Filise, G Earle, D Welch, M Cook, O Robinson, N Williams.
Replacements: B Thyer for Domachowski (46m), A Peikrishvili for Filise and G Anscombe for Evans (51m), J Down for Welch and J Turnbull for Cook (60m), K Myhill for Reece (67m),H Millard for Morgan (79)
Teams:
Connacht: T O'Halloran, N Adeolokun, E Griffin, T Farrell, M Healy, J Carty, C Blade, D Buckley, D Heffernan, F Bealham, Q Roux, J Cannon, E Masterson, J Heenan, J Muldoon (capt)
Replacements: S Delahunt for Heenan (48m), P Ahki for Griffin (59m), S Crosbie for Carty and J Mitchell for Blade (65m), C Carey for Bealha (68m), C Kelleher for Farrell (76m)
Referee: Craig Evans (WRU)
Attendence: 5,042